FREE TEA SAMPLE FOR A TRIAL
Do you want to have a trial with our tea ? or want to place bulk order but not clear with the tea quality or taste? No worry, From now on, we would like to provide a free sample to you. You only need to send us an email with the address and tea name you want. We will ship out shortly.
Q&A
1. How I can place a sample order?
A: You can fill out the form above and "Submit" then we will receive your request.
Another way is, to send an email to LEOTEAWORLD@GMAIL.COM or RICHUYOUYAO@QQ.COM. State what sample you want, and leave us the full address and contact phone number.
2. How long can I get the sample?
A: Normally will take about 7~15 days. We will send you a notification email to you once the sample ships out. In general, no tracking information. In case you need tracking No. Please just pay $3 for a registered post. Kindly notice please, this is not for tea sample fees. just charged by the carrier.
Here is the Registered Post Fees Link below,
3. How much about the sample size?
A: We usually make the sample about 8~10g depending on different tea types. One sample can brew about 1~2 serves. If you have any personal requirements, just freely let us know.
4. How many samples can I order?
A: Our purpose is, to provide a trial drink to enjoy Chinese tea, So normally samples should not exceed 3 types at 1st time. Please not worry, for all valuable customers, we are glad to provide as more as possible.
How to Choose Favorite Tea
STEPS
1. Select your favorite tea type via the navigation bar from our store.

2. Choose your favorite tea in the collections.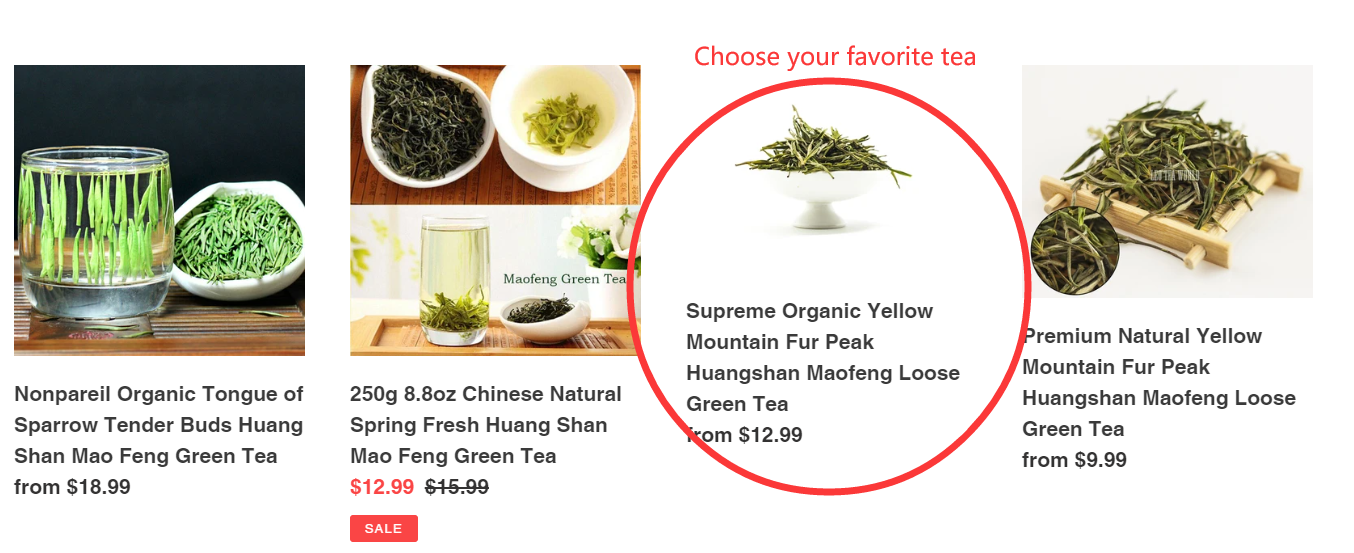 3. Copy the full tea name then leave a message when you place a tea order or send us the email.

FREE TEA SAMPLE FOR BLOOGERS
We also offer free samples to people who write reviews of Chinese tea on their blogs and social media accounts. If you're a blogger interested in writing about tea from China, we would love to hear from you. We offer unlimited free samples of tea for bloggers, TikTokers, and Instagrammers who own a well-maintained blog or social media account with unique content.
We welcome you to embed the teas that we offer on your blog. We don't charge bloggers to review, share, or promote our products with readers. If you agree to be an author for our website, we're happy to send you samples of each tea (at no cost). It's really fast and simple – all you need to do is email us at leoteaworld@gmail.com telling us which blends you'd like your free samples in and the blog name where they'll be posted.
After getting back those details from you, a box of teas will be sent out to your address within 2-3 business days! Also, feel free to let us know if there's anything particular about the teas that this author would like or doesn't like – as we value a reviewer's opinion just as much as ours! Remain calm and steady – during testing periods or when there have been issues come up in the lab, it can get very trying on all of us. Thank you for understanding! If possible leave us a review after tasting any of the blends. and please include a link to the related product or category page.
Once you send us your request, we will send out at least 5 types of teas to you for free of charge! Each tea will be about 15 grams and perfect for making up to 5 servings. Besides simply enjoying the tea, the only thing you need to do is document your experience! For example, you could create a video about your tasting experience or write a blog post on how well-rounded your favorite tea was with deep chocolaty tones and floral undertones because it contained a combination of black teas and oolong. This way other tea lovers can know what they're in for if they decide to check out this type of tea or similar ones.
Send us your email today! we are glad to hear you soon!